Welcome to Richmond Road Registry – an authorized registry agent that can take care of all of your essential registration, licensing and information needs. If you're looking for a comprehensive Alberta registry service that covers everything from automotive licensing and corporate name searches to issuing a marriage certificate, we're the ones for you.
PLEASE NOTE: Richmond Road Registry does not facilitate Road Tests for Classes 1, 2 and 3.
---
GET YOUR OFFICIAL ALBERTA COVID-19 IMMUNIZATION CARD WITH QR CODE
Richmond Road is proud to offer printing services for your official Alberta COVID-19 Immunization Cards (with QR Code) for you, your family, and your friends if you come to our registry in person or order online. The COVID-19 Immunization Record will be printed business-card sized so it can fit in your wallet. Printing fee is $5.25 per card. Lamination fee is $3.00 per card. Additional copies (non-laminated) cost $1.00 per extra copy.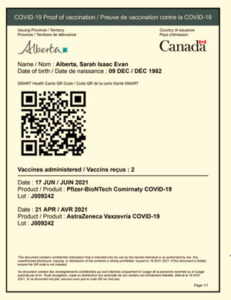 ---
NEVER MISS A RENEWAL NOTICE
Sign up for an email or text reminder and you'll be notified before your vehicle registration, ID card or driver's licence expires.
It's free and you can unsubscribe at any time. Please have your Alberta Driver Licence or Alberta Identification and Vehicle Registration in front of you.

---
Find it fast, get it now!
Busy? Don't have time to deal with bureaucracy? Let us help!
Think of us as your "simplifier". We are here to make life easier and less complicated. Select from our boutique of online services from the comfort of your own home. It's as simple as the click of a mouse. Or you can speak to a member of our friendly and knowledgeable services team. It's as easy as picking up the phone. 
Prefer to do everything in person? We'd love to see you! Come in today as all our services are, of course, offered in-store. See the left-hand menu for our contact information and address.