Richmond Road Registry provides automotive registry services such as vehicle registration, licence plate cancellation and Carfax Canada Verified. We also make it even easier – we are one of the few registries in Alberta that allows you to do several automotive services online from the comfort of your own home!
---
EASY RENEWAL – NEVER MISS A RENEWAL NOTICE
It's easy to renew! Sign up for an email or text reminder with Option Pay (see button below) and you'll be notified before your vehicle registration, ID card or driver's licence expires.
It's free and you can unsubscribe at any time. Please have your Alberta Driver Licence or Alberta Identification and Vehicle Registration in front of you.

Please choose from the list on the left-hand side of the screen to get more information on the Automotive Registry services Richmond Road Registry offers or renew your vehicle registration online using the following link: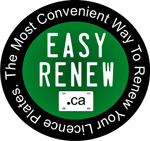 ---
PLEASE NOTE: While you can pay online for all automotive registry services, for some services you are required to email us more information to complete the service, or you are required to complete the application process in-person at Richmond Road Registry.