WHAT IS a vehicle registration renewal?
In Alberta, vehicle registration renewal must be done annually. The Alberta Government sends out a Vehicle Registration Renewal notice to your registered address about two months before your registration becomes due (the due date is the last day of the month determined by the first letter of your last name – see Vehicle Registration).
If you do not receive your renewal notice in the mail, you are still required by law to renew your vehicle registration. When you come into Richmond Road Registry to renew your vehicle, we will give you new stickers to put on your Alberta vehicle licence plate which are valid for one year.
---
OPTION PAY RENEWAL – NEVER MISS A RENEWAL NOTICE
Sign up for an email or text reminder and you'll be notified before your vehicle registration, ID card or driver's licence expires.
This Option Pay online renewal notification service is free and you can unsubscribe at any time. Please have your Alberta Driver Licence or Alberta Identification and Vehicle Registration in front of you. Click the image below:

---
How do you get a vehicle registration renewal?

It's easy! While our registry's shopping cart does NOT allow you to purchase your alberta vehicle registration renewal online, you can easily renew your vehicle registration online via Option Pay here.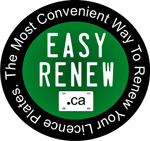 You can also easily renew your vehicle registration in person at Richmond Road Registry. Please bring in the following documents:
Valid Alberta insurance pink slip (please note the name on the slip MUST match the name of the person on the registration).
Authorization for Vehicle Services (if the registered owner is sending someone else on their behalf)
Renewal notice sent to you in the mail by the government.
No renewal notice? No problem, we can print a new one.
Changes to your registration? You will need to show personal identification.