Get your Official Alberta COVID-19 Immunization Card
Richmond Road is proud to offer printing services for your official Alberta COVID-19 Immunization Cards (with QR Code) if you come to our registry in person or order online. The Immunization Card will be printed on business-card sized paper. We can also laminate and print extra copies and mail those COVID-19 vaccination cards to you at no extra cost.
Having a printed COVID-19 Immunization Card with you (in your wallet/purse) may help streamline your access to various businesses, events, and locations that require proof of vaccination.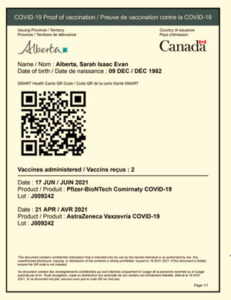 You can order multiple cards for you, members of your family, and/or friends as long as you can provide the following information FOR EACH person requiring an Immunization Card:
Alberta Health Care Number
Date of Birth
One of the months the person received one of their vaccinations (ie: APRIL)
Full Mailing address including postal code
IMPORTANT: if a person was vaccinated outside of Alberta, they would need to first contact Alberta Health Services so that their Alberta Health records can get updated and this process takes a couple of weeks.
Please select which version you would like to receive (and you can add multiple items to your cart on the following pages if you want to order more than one immunization card):
We can mail your card(s) or you can come in person at our registry to receive your official AB COVID-19 Immunization Record with QR code during opening hours.